It seemed like 2015 went by fast, but I've blinked twice and it's already almost the end of January halfway through February (okay I've really been procrastinating on this post). For years I've read "years in review" by others in the tech community, but never did one of my own because it never seemed like my experience was worth sharing. While I'm still skeptical how much value others might get out of this, especially considering how informal it is, it's at minimum helpful in collecting my own thoughts.
So to start, in general it was a great year — not necessarily just for business, but all around it felt great. That's not necessarily a quantifiable metric, but that's what it was.
Client Work
In 2013 and 2014 my consulting business had always afforded me the freedom to work my own schedule and forgo an employed job, but never quite amounted to what I could have made working a market rate job. In the early days there were even a few of those "oh god I have no work lined up and can't pay rent " occasions that I'll never forgot, but somehow it always worked out.
Twenty Fifteen, on the other hand, seems to be the year that things have not only gotten extremely stable with an upward trend in income, but also in quality of clients, ongoing relationships with clients, and ease of finding work when needed (and turning it down when not).
By the Numbers
In 2015 I worked on a total of 17 different projects with 12 different clients — an insane amount compared to previous years and something I aim to curb moving forward (more on that below). Net income saw a 94.1% increase over the previous year, and gross income increased by 82.2%. While the prior is indicative of overall business health, the latter is effectively my take home pay as I don't have a salaried job and all income after business expenses is personal income in the all-seeing eyes of the Internal Revenue Service.
For the visual learnings out there here's a chart showing year-by-year income and revenue, as expressed in emoji (I was a full time student until 2012, so any income was minimal and likely to be spent on cheap beer).
Looking back, this was a much better year than 2014, which saw a net income increase of 52.8% and gross income increase of 11.2% over 2013. If you factor in the fact that I was employed full time from January through April of 2013, I likely actually saw a negligible increase in income compared to the previous year.
I unofficially had made a net income goal for 2015, which I exceeded by roughly 15%. My goal for 2016 is actually to maintain that same income level, but while working on client projects roughly 30% less. It's always been my goal to design and build my own products (analog & digital), so I hope this extra time will be enough to start focusing more time on doing so compared to previous years.
What Went Wrong
That said, it wasn't all good.
First, as mentioned before I worked on seventeen projects, which was way too many for one person to handle. For the most part everything worked out, but at times I was stressed to the point I wanted to punch a wall (I didn't), which is exactly the opposite of why I got into contracting.
Second, I took on a client that gave me "a bad feeling". That client also happened to coincide/cause that peak of stress partway through the year. As the project went on it became more and more demanding to the detriment of my other work, and worse yet it was a product I neither believed in nor thought should exist. In the end I talked to my friend on the project and we decided to let the client know we would be ending our contract after delivering the current project milestone in a few weeks.
It's always hard to say no to someone trying to hand you a check, but being able to pays dividends in your personal well-being and being able to deliver the quality you already promised to your existing clients.
Designers Who Code
Designers Who Code has exceeded my wildest expectations. What started as a hunch that their might be other "designer-developers" out there has turned into a group of 2000 2200 members. We hosted 6 events from January through April with companies like Heroku, Zurb, and Carbon Five, and had a total of 784 RSVP's between those 6 events.
All things considered I think we had some great events and were able to engage a considerable number of people despite being dormant the latter half of the year.
In good news I recently launched a new website for the group that was designed/built intermittently over the course of a few months on top of Jekyll. It's pretty minimal and still has gaps, but will serve as a good foundation for a myriad of other features I hope to include as I aim to allow the group to exist independent of Meetup.com's platform.
Additionally, I'm in talks with friends about becoming co-organizers (so things don't necessarily go dark when I do), and it's looking like we'll be having our first events outside San Francisco this year.
Backpacking Trips
As someone who loves the outdoors and is generally active, it surprised me when I realized that I'd never been on a proper backpacking trip. Fast forward to April and I'm trekking down an Arizona desert canyon riverbed with my girlfriend, her brother, and his girlfriend for 40 miles over 3 days. I could write an entire post to the trip alone, but put simply it was nothing short of amazing. While I'm not sure I'd ever want to live in the desert permanently, it's an environment I appreciate and respect far and above any other.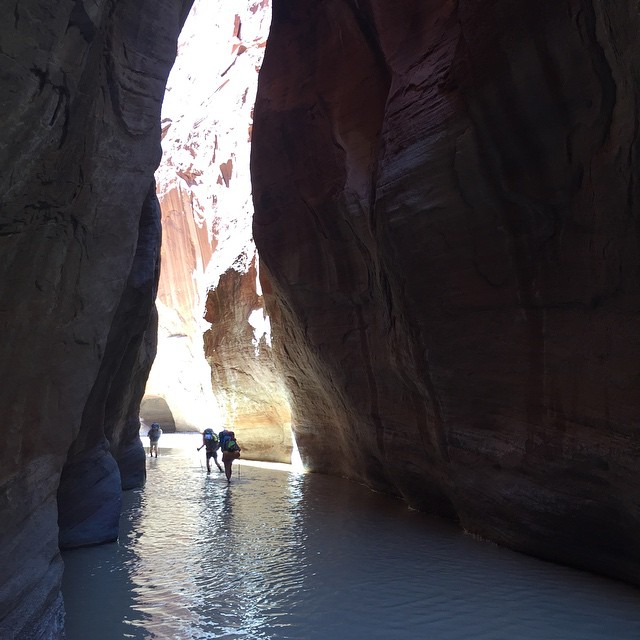 _About 15 miles into Paria Canyon in the "narrows"._
After the trip I couldn't shake the feeling that I needed to go on a longer trip, so I naturally opted for the 212 mile John Muir Trail (40 miles to 212 miles...totally reasonable). I've written a post on my gear and preparing for the trip in general, but have yet to write anything detailed otherwise. I tried, but at the time any words I could put down seemed to pale in comparison to the awe and wonder two weeks in the Sierras instilled in myself.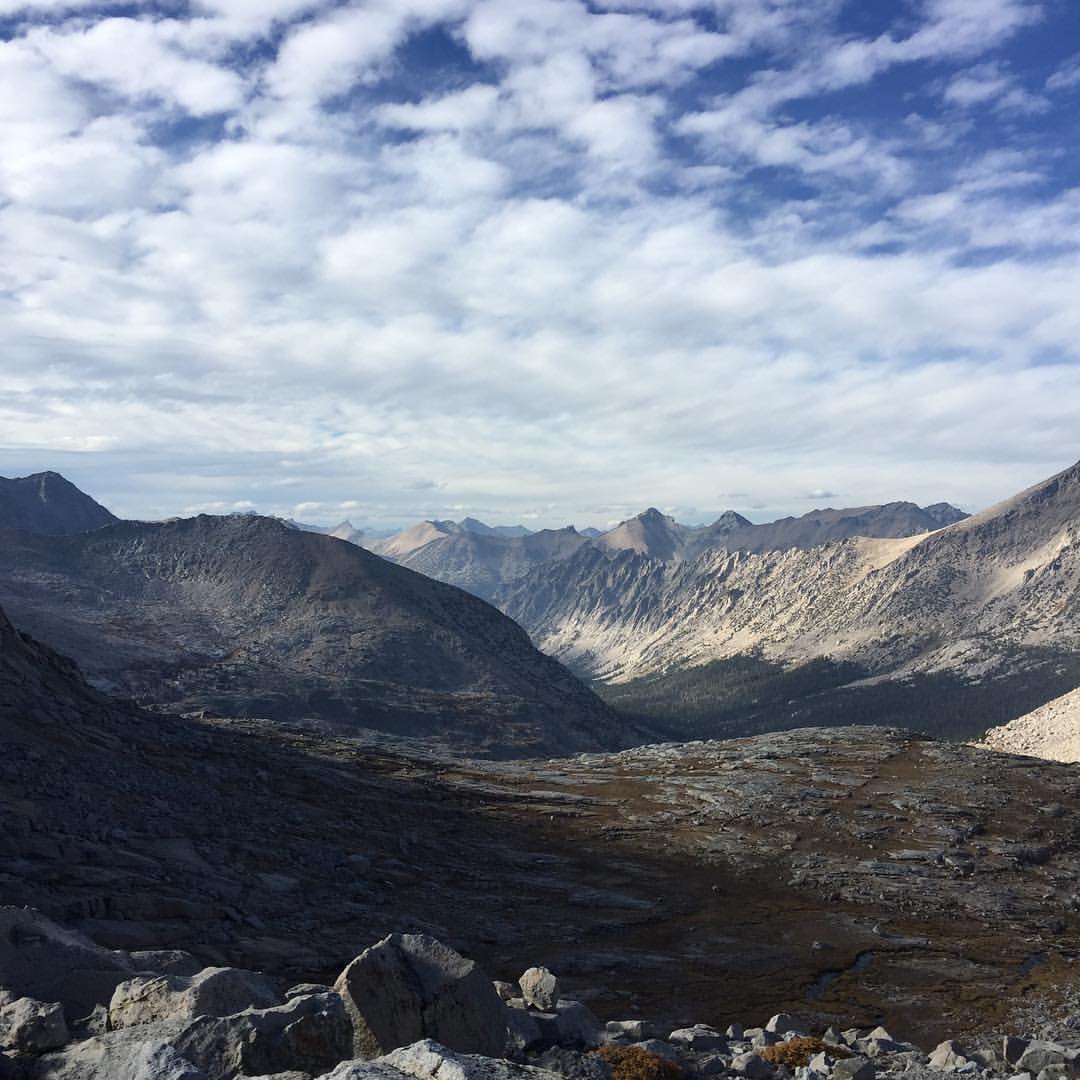 _Looking back down from the top of Forrester Pass at 13,500'_
Looking to the Future
I'm currently working with a colleague of mine on an app aimed at helping make freelancers lives easier. It's still pretty early to say much, but I'm sure I'll have a followup post down the line.
And the big news for the year...my girlfriend and I will be traveling the world the second half of 2016! What started as an idea to be expats in Thailand has turned into a trip that includes the eastern US, a myriad of European countries, and an unplanned number of countries in Southeast Asia. As part of the trip I'm looking at writing a "digital nomad" series for those thinking about working and traveling at the same time.
Words of Wisdom for 2016:
"You have Cost, Quality, and Speed — Pick Two."